Design & Productie

First generation: Steinhauer was founded by Hendrik-Jan Steinhauer on October 21, 1933, the birthday of his son Paul. He started producing lamps in the basement of his house in Amsterdam.
Second and third generation: After the 2nd World War the company moved to Apeldoorn, now son Paul has taken over the company. The collection focuses mainly on acrylic, which is produced by 2 large Steinhauer machines. In the 1990s, the collection changes to wood and metal. Steinhauer has moved to a larger location in Apeldoorn and the 3rd generation, son Mark, joins the company.
1998-2002: In the years 1998-2002, when Mark took over the company, the Steinhauer team grows to 35 employee. Collection has changed to more expensive lighting. Production is fully concentrated in the Netherlands with a permanent group of 160 workers who assemble lighting. Design and development are in Apeldoorn. Components are purchased all over the world and collected in the Netherlands and then assembled entirely under Steinhauer's own management. Main countries for suppliers are Germany, Italy and Slovenia.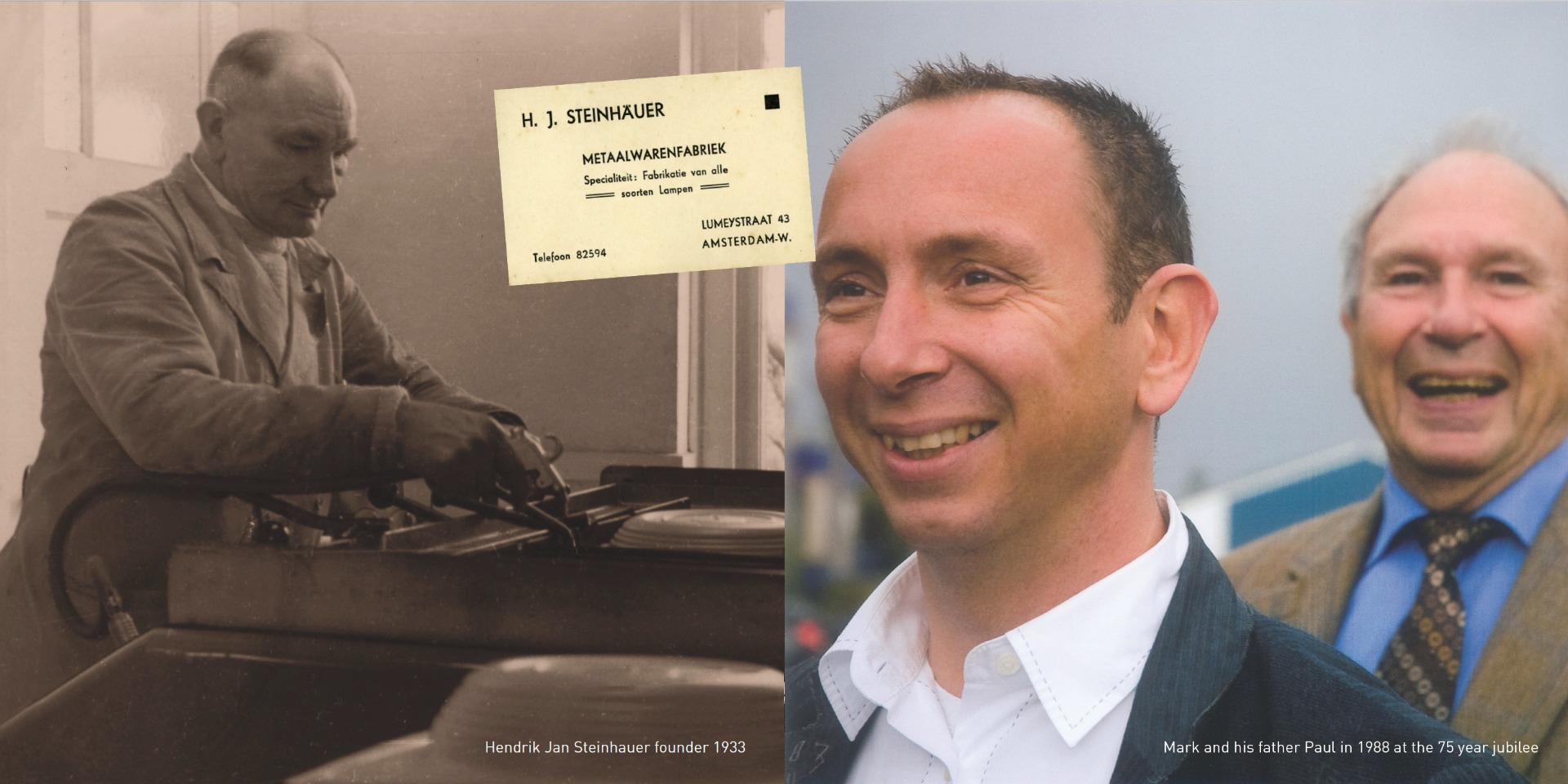 Overseas production: In 2002 Steinhauer starts moving production to China and within 10 years 80% of production will be in China. The market has changed very quickly in the past 15 years: 2/3 of all stores in the Netherlands have closed. By moving almost all European production to China, the general price level of lighting is significantly reduced. Although Steinhauer's international sales are growing rapidly, in 2016 Steinhauer is forced to reorganize the company. Remaining production in the Netherlands will be stopped and the Steinhauer trucks for transport in the Netherlands and Germany are also sold out. A tough and emotional decision but necessary to survive and be ready for the future.
2021: Production is now concentrated in 4 partner companies in China, each with its own specialization:
LED
Industrial
Basic luxury collection
Economic basic collection
Steinhauer now sells to online and offline customers in more than 24 countries. More than 60% of the total turnover is export. Also includes private label sales from China directly to customers in the US, Spain and other countries.
To this day, design and development are still completely in our own hands from Apeldoorn in the Netherlands.